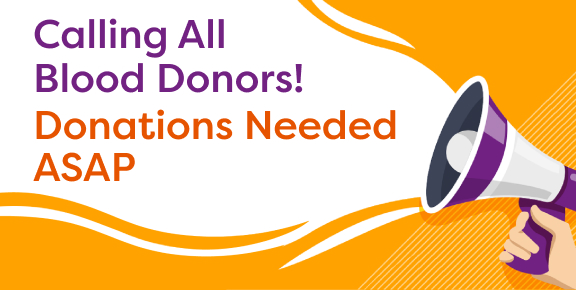 Spread the Word About the Need for Blood!
Thank you for being a dedicated Vitalant supporter. We're asking for your help again to make sure blood is available for patients over the holidays and in the new year. More donors are needed now through Jan. 5 at your local Vitalant donation center. Will you help spread the word?
Here's what you can do:
Book a donation to give blood, Power Red, platelets or plasma at your neighborhood Vitalant donation center.
Use your Refer a Friend code to refer friends and family to donate, too.
Get social for the cause by sharing about the need for blood and posting pictures of your donation on social media.
Toolkit
Social Media Resources
Find us on Facebook, Twitter, Instagram and Tiktok.
Use the hashtags #Vitalant and #YouAreVital
Social Media Graphics
Social Media Post Ideas
Write your own post inviting friends and family to your neighborhood Vitalant donation center – be sure to include your referral link!

Every two seconds, someone in the U.S. needs a blood transfusion. I do my part by donating regularly with @vitalant. Will you please join me? Use the link below to book an appointment at your neighborhood Vitalant donation center.
<INSERT REFERRAL LINK>

I donate blood with Vitalant because I am blessed with good health. If you are too, will you please join me? Use the link below to make an appointment at your neighborhood Vitalant donation center and donate blood this month. Every donation today is vital to making more tomorrows possible for patients.
<INSERT REFERRAL LINK>

I have an appointment to donate blood <INSERT DATE> at the Vitalant <INSERT DONATION CENTER NAME>. If you're able to give, will you please join me? Use the link below to schedule your appointment.
<INSERT REFERRAL LINK>