Multiply Your Impact for Patients with the Vitalant
Refer a Friend Program
We need your help spreading the word about how easy and important it is to donate blood and help hospital patients. Many people say they never donated blood because they've never been asked. You can help by making that personal ask — of friends, family members, coworkers, fellow church members, etc.
Vitalant's Refer a Friend program makes it easy to become a blood donation advocate:
Everyone who donates blood, platelets, plasma or Power Red with Vitalant will receive a unique referral code.
Log in to your donor account at vitalant.org to find your code.*
Share the code with friends and family via email, social media or wherever you can.
Keep track of the impact you're making — donations made by people you refer will display in your account.
In the last few years, the number of people donating blood has dropped about 20%. Without new people coming in to give blood and current blood donors continuing to give, patients could be at risk if blood isn't available when they need it.
Whether you're donating blood or referring a friend to make an appointment, we really appreciate everything you're doing for patients!
*Referral codes are not yet available in New Jersey and New York, but donors in these states are still encouraged to spread the word about the need for new blood donors.
Stories to Inspire Blood Donation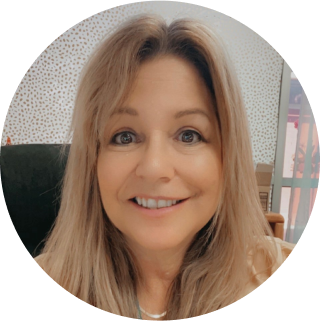 Lori has given more than 30 donations with Vitalant and is an advocate for blood donation. "I always encourage others to donate. I explain how rewarding it is and that it makes a huge impact on those whose lives depend upon this resource, from tiny newborn babies to the most fragile of our elderly population. One day, it may be you who needs this precious gift."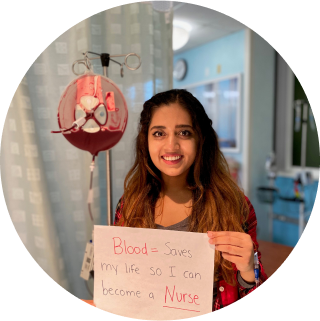 Rammeet needs about three units of blood every three weeks due to a genetic chronic illness called beta thalassemia major and has received more than 400 units of blood so far. She's giving back by working as a phlebotomist and hopes to become a nurse. "I love inspiring donors to give by sharing my story. I am grateful to every blood donor for giving me and many others the gift of living."
Why should I make a referral?
Overall, the number of people donating with Vitalant has dropped about 20% in the last three years, while patients' needs remain strong. Without new donors, it's increasingly more difficult to supply the blood hospital patients need. Many people say they never donated blood because they've never been asked. Your help is needed to make that personal ask — of friends, family members, coworkers, fellow church members, etc. — to donate blood. It's a simple way to help even more patients and make sure blood is available when people need it. When someone you referred makes a blood donation and uses your referral code, a record of that donation will appear on your personal dashboard in your secure online donor account, so you can keep track of the good you are doing.
Are there incentives for making a referral?
Sharing the importance of donating blood with your friends and family helps ensure that blood is on hospital shelves in your community when it's needed. That's an awesome benefit for everyone.
All Vitalant blood donors can participate in our donor recognition program, and take advantage of thank-you gift cards and other items offered during critical times or for making automated donations (Power Red, platelet or plasma donations). You'll also feel amazing knowing you've helped save multiple lives!
How long does it take for an appointment or donation to show on my dashboard?
You should see the appointment count on your dashboard update within minutes of a friend using a referral code to book an appointment. The donation count will update the day after a successful donation. Keep in mind that only successful (completed) donations will appear on your dashboard.
My friend made an appointment using my referral code but then gave at a different location. Does this count on my dashboard?
As long as the donation is on the same date as the appointment your friend made using the referral source code, the donation will appear on your referral dashboard.
Why can't I see who made an appointment(s) or donation(s)?
At this time, we are unable to share information regarding who made an appointment using your referral code. But the good news is that future phases of the program are expected to include this information in your referral dashboard.
How can I confirm that the referral code I used to book my first appointment was credited to my friend's account?
Please call our Customer Care team at 877-258-4825 prior to your appointment to confirm the referral code has been added to the appointment information. If you are already on-site for your appointment, please ask our staff to confirm in our system that the referral code is attached to your appointment. Referral codes cannot be added or changed after your appointment time.
I used the wrong referral code when booking my first appointment. How do I change it?
Please call our Customer Care team at 877-258-4825 and they can update the referral code for you. IMPORTANT NOTE: Referral codes can only be added or changed prior to your appointment. Once your appointment time has passed, we will no longer be able to update or add the code.
Why don't the appointments and donations on my dashboard match?
A friend may have booked an appointment but was unable to successfully donate; they may have missed or rescheduled their appointment; or they may have simply forgotten to enter the referral code when booking the appointment.
How do I get a referral code?
Referral codes are automatically created for anyone who has a donor portal account. (This applies only to Vitalant donors in states other than New Jersey, Pennsylvania, Ohio and West Virginia. These four states will automatically receive referral codes at a later date.).
Can I get a custom referral code?
At this time, we are unable to assign custom codes. We've designed the referral codes we provide to be easy to remember.
Can someone donate more than once with my referral code?
Absolutely! We encourage donors to share their referral codes with as many people as possible to raise awareness of the need for new donors and repeat donors. Sometimes, it takes a village, so thank you for helping us spread the word!
Can I find out who made an appointment but didn't come to donate?
Donor privacy regulations do not allow us to share information on who made an appointment but could not donate. Sometimes donors — through no fault of their own — are deferred from donating due to medical reasons or other FDA safety requirements.
What is the difference between sending an email from my dashboard vs. sharing my referral code through my personal emails?
This is mostly a personal preference. As a convenience, we offer the ability to send a message directly from your Vitalant donor account. This feature will open an email in your own email provider (e.g., Outlook, Yahoo, etc.). The email will be prepopulated with a basic message and a direct link to the donor portal that includes your unique referral code. This link also can be made into a QR code or copied and pasted into text messages or social media. If you prefer, you can copy your code and send a message separately via email, text, a social media post or any other way you would like to spread the word about the need for new blood donors.
Does my friend need to bring the referral code to their donation?
We kindly ask that your friend book an appointment on vitalant.org. They'll need to add the referral code to the appropriate field when they book their appointment. If they forgot to add the code when booking the appointment, they should call our Customer Care team at 877-258-4825 to add it. Referral codes must be added to the appointment prior to donation. Unfortunately, we cannot add a referral code to an appointment at the donation site or after the person has donated.
Can I walk into a donation center or blood drive and ask the staff to look up my friend's referral code before I donate?
Donation or blood drive staff will not be able to look up or add referral codes. The best way to ensure your friend's referral code is used is to include it in the referral code field when booking an appointment online. If you book an appointment over the phone with our Customer Care team, tell Customer Care the referral code at that time.
Why isn't my referral code in the app?
At this time, the referral code dashboard is only available on the website. However, we are planning to add referral codes to the app in the future. Thank you very much for your patience!
I am attending a blood drive at my company. Can I ask the blood drive coordinator to add a referral to my appointment?
At this time, blood drive coordinators are not able to add referral codes to the appointment system. If you would like to use a referral code, please go to vitalant.org and book your appointment for the company blood drive directly. You can enter the referral code at that time.