Vitalant offers services to hospitals and healthcare partner nationwide including blood products, apheresis, laboratory services, and transfusion medicine services. About 900 hospitals in more than two dozen states count on Vitalant to be prepared for day-to-day and unimaginable blood product needs. From clinical apheresis to laboratory services, and more, Vitalant can help.
Vitalant hospital services balances our coast-to-coast footprint with intense local understanding of the communities, hospitals and patients who depend on us. We serve independent hospitals, parts of or entire hospital networks and health systems, integrated delivery networks and group purchasing organizations.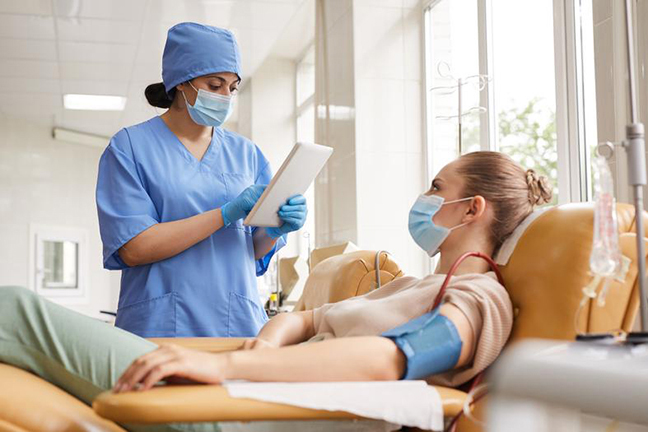 Current Vitalant Hospital Services and Laboratories Customers
WE HAVE A NEW WEBSITE. Current hospital and laboratories customers can now access important forms, continuing education opportunities, local contact information and more all at one location, vitalanthealth.org.
What we offer
Hospitals and physicians count on us for exemplary responsiveness and expertise across a varied geographic footprint. Services provided by Vitalant include a comprehensive package of tools and a unique collaborative approach to help hospitals achieve their goals by implementing evidence-based strategies that reduce costs, demonstrate quality conformance and improve patient safety and outcomes.
Laboratory services
Services provided by Vitalant laboratories support health care practitioners who specialize in transfusion, transplantation and regenerative medicine. Among many services, our highly experienced team provides: patient-donor compatibility testing; advanced platelet and red blood cell typing and antibody identification; specialized coagulation testing; and tissue typing for stem cell and organ transplants. We operate more than a dozen AABB-, ASHI- and CAP-accredited laboratories across the country (Chicago, Denver, Phoenix, Pittsburgh, Richmond, Sacramento, San Francisco and Spokane). These laboratories include:
Immunohematology Reference Laboratories (7)
Histocompatibility Laboratories (3)
Cellular Therapy Laboratories (2)
Coagulation and Thrombosis Laboratory (1)
Together, our medical technologists solve some of the most complex immunohematologic compatibility cases, such as matching sickle cell patients with personalized rare antigen-negative red blood cells, and providing lifesaving blood and cellular therapy services to hospitals across the United States.
Clinical apheresis services
Vitalant's clinical apheresis services provide expert care for treating a wide spectrum of patients across all age groups. With decades of experience in markets across the nation, Vitalant clinical apheresis services is your partner in transforming patient's lives through:
Evidence-based practice
Medical director oversight, consultation, guidance and patient management
Highly trained and experienced clinical apheresis team
Operational cost management savings
Physician/staff education programs
Actively involved in research protocols and cellular therapy collections
Comprehensive quality-assurance plan
24/7 scheduled, on-call and emergent-procedure coverage
Procedures performed in outpatient and inpatient settings
Quarterly monitoring reports
Procedures offered:
Therapeutic Plasma Exchange (Plasmapheresis) (TPE)
Red Blood Cell Exchange (Erythrocytapheresis) (RBCx)
White Blood Cell Reduction (Leukocytapheresis) (WBCr)
Platelet Reduction (Thrombocytapheresis) (PLTr)
Extracorporeal Photopheresis (ECP)
Low-Density Lipoprotein (LDL) Apheresis
Red Blood Cell Reduction by Phlebotomy
Cellular Therapies

Mononuclear Cell Collections (MNC)
Hematopoietic Progenitor Cell Collections (HPCs) (Stem Cell)
Collections for the National Marrow Donor Program (NMDP)
Vitalant Cord Blood Services (formerly the New Jersey Cord Blood Bank
Medical consultation
As close as the phone and often in-person—24 hours a day, seven days a week—our doctors work with hospital- and office-based physicians and technologists to resolve challenging transfusion dilemmas and provide unique blood products whenever they're needed. Along with providing consultation, our physicians contribute to hospital-based transfusion committees, participate in grand rounds and lead the development and presentation of continuing medical education programs.
Services provided by Vitalant physicians also include supervising hospital transfusion services and therapeutic blood-exchange procedures, overseeing therapeutic phlebotomy programs and helping deliver lifesaving cellular therapies collected by our staff and processed in our laboratories. In addition, they direct specialty laboratories in immunohematology, platelet and coagulation testing, tissue typing, and immunogenetics. In one of our geographic service areas, they staff a hemostasis and thrombosis clinic and a regional hemophilia center.
Continuing education
Dedicated to always improving transfusion medicine and patient care, Vitalant hospital services provides physician, laboratory management and staff education programs. As our health care partners work to do more with less, we have placed increased importance on providing convenient access to high-quality
continuing education programs
that teach blood banking, professional development and patient blood management skills. The American Society for Clinical Laboratory Science (ASCLS) lists Vitalant as an approved provider of continuing education programs. Many of our courses include ASCLS P.A.C.E.® credits via online self-study training modules and hosted webinars.
Becoming a Vitalant hospital services customer
As a national organization, Vitalant hospital services is ideally suited to work with national and regional health systems, integrated delivery networks and group purchasing organizations. Our significant experience in customizing service to hospitals of all sizes and complexities enables these large networks and organizations to meet their members' needs. To talk with our national team about system contracting, please contact us.