Vitalant Auburn Blood Donation Center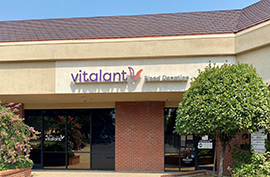 Address
11990 Heritage Oak Place, Suite 2A
Auburn, CA 95603
(877) 258-4825
Schedule now
Hours
Closed

11:00 am-6:00 pm

11:00 am-6:00 pm

8:00 am-3:00 pm

8:00 am-3:00 pm

6:45 am-12:15 pm

Closed
The Vitalant Auburn blood donation center at 11990 Heritage Oak Place, Suite 2A, Auburn CA, 95603, serves the northern part of Auburn and surrounding areas like Elders Corner.
The blood donation center is in a mall where other professional businesses are located and that provides plenty of free parking including accessible parking spots.
This cozy donation center has a small-town feel, and donors are assisted by friendly staff as they give whole blood, platelets, plasma or Power Red (double red donations).
The Auburn donation center is open every day, but hours may vary. APPOINTMENTS ARE STRONGLY ENCOURAGED. Please call (877) 258-4825 (local (530) 823-0655) to confirm the day's center hours and your appointment if you have not received a confirmation email, text or phone call.