Vitalant Chandler Blood Donation Center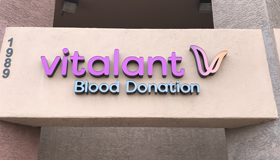 Address
1989 W. Elliot Road, #32
Chandler, AZ 85224
(877) 258-4825
Holiday hours may vary. Closed for lunch & other duties:
Tue - Thu: 1:00 pm - 2:30 pm
Fri & Sat: 10:00 am to 11:30 am
Schedule now
Hours
9:30 am-4:30 pm

9:00 am-6:00 pm

9:00 am-6:00 pm

10:00 am-5:00 pm

7:00 am-2:00 pm

7:00 am-2:00 pm

Closed
The Vitalant Chandler donation center at 1989 W. Elliott Rd., #32, Chandler, AZ 85224, serves Chandler and southeast Maricopa County. The donation center is located near the corner of W. Elliot and N. Dobson Roads, just east of State Route 101 in the Elliot Square shopping mall.
Blood donation types collected at this site are whole blood, platelets, plasma and Power Red (double red cell). The location is open Monday to Saturday for platelet donations and Tuesday through Saturday for all other donation types.
The parking area is large, offering plenty of nearby spaces, and accessible parking is available to the right of the front doors. The center has Spanish-speaking staff Tuesday to Saturday.

Hours may vary. APPOINTMENTS ARE STRONGLY ENCOURAGED. Please call (877) 258-4825 to confirm the day's center hours and your appointment if you have not received a confirmation email, text or phone call.