Vitalant Fairfield Blood Donation Center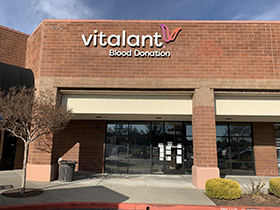 Address
1325 Gateway Boulevard, C1
Fairfield, CA 94533
(877) 258-4825
Schedule now
Hours
11:30 am-6:30 pm

Closed

11:30 am-6:30 pm

Closed

7:30 am-2:30 pm

7:30 am-2:30 pm

8:00 am-3:00 pm
Blood donors who live or work in the city of Fairfield are invited to visit the Vitalant Fairfield blood donation center at 1325 Gateway Blvd., Fairfield, CA 94533. The building is located across the street from Solano Town Center, next to Trader's Joe's, and visitors will find plenty of parking in the shared lot.
Types of blood donation collected here include whole blood, platelets and plasma. This location has a staff member fluent in Spanish who can assist Spanish-speaking donors. The entire team goes the extra mile to take excellent care of our blood donors.
Donating blood in Fairfield, CA, is safe and easy to do, and it can help save lives. Your donation can help someone in need—and make a huge difference in your community. Our Vitalant Fairfield blood donation center needs blood donors of all blood types, so if you've never donated before or haven't in a while, we hope to see you soon.