Vitalant Sacramento (Midtown) Blood Donation Center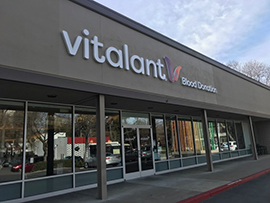 Address
1608 Q St.
Sacramento, CA 95811
(877) 258-4825
Schedule now
Hours
6:00 am-2:00 pm

7:30 am-3:00 pm

11:00 am-7:00 pm

7:30 am-3:00 pm

6:00 am-2:00 pm

6:30 am-2:00 pm

6:00 am-1:00 pm
Blood donors who live in downtown/midtown Sacramento and neighborhoods like Newton Booth, Richmond Grove, Boulevard Park and Mansion Flats are welcome to visit the Vitalant Midtown Sacramento blood donation center at 1608 Q Street, Sacramento, CA 95811.
You can't miss the tall, multicolored paint poles in front of the building, which use to be a paint store. The poles are now protected by the city as a sculptural art piece. Free parking is available in the surrounding lot.
The spacious, open floor plan and architectural design inside the blood donation center also have an artistic feel. There, our attentive staff collect several types of donations from volunteer donors: whole blood, Power Red, platelets, plasma, source plasma and therapeutic donations.