Vitalant Santa Barbara Blood Donation Center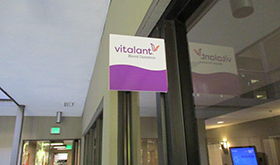 Address
4213 State Street
Santa Barbara, CA 93110
(877) 258-4825
Schedule now
Hours
10:00 am-5:00 pm

10:00 am-5:00 pm

12:00 pm-7:00 pm

11:00 am-6:00 pm

8:00 am-3:00 pm

7:30 am-1:30 pm

7:30 am-1:30 pm
The Vitalant Santa Barbara blood donation center is located at 4213 State St., Santa Barbara, CA 93110. Look for a three-story building with lots of windows and our Vitalant sign out front.
This blood donation center serves Santa Barbara and the neighborhoods of Oak Park, Upper East, Samarkand, Hitchcock, North State, San Roque and East San Roque. Free parking is available in the lot, including accessible parking.
We have bilingual Spanish-speaking staff here to assist donors. Come on in and save lives by giving one of the donation types collected: whole blood, Power Red, platelets, plasma and therapeutic donations.