Vitalant Scottsdale Blood Donation Center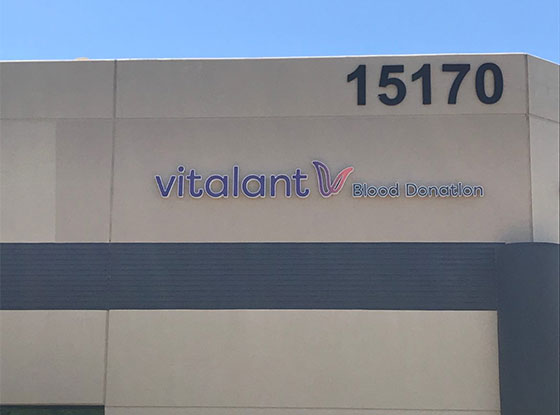 Address
Please donate at our temporary location Nov. 28 - Dec. 11 inside the Vitalant National Office during our Scottsdale Donor Center refresh, which is just a 10-minute drive:
Temporary Nov 28 - Dec 11
Inside Vitalant National Office
9305 E. Via de Ventura
Scottsdale, AZ 85258
(Via de Ventura & Loop 101)
Permanent Dec 12
15170 N. Hayden Rd., #6
Scottsdale, AZ 85260
(Hayden Rd. & 83rd Pl.)
(877) 258-4825
Holiday hours may vary. Closed for lunch & other duties:
Tue - Thu: 1:00 pm - 2:30 pm
Fri & Sat: 10:00 am to 11:30 am
Schedule now
Hours
Closed

9:00 am-6:00 pm

9:00 am-6:00 pm

10:00 am-5:00 pm

7:00 am-2:00 pm

7:00 am-2:00 pm

Closed
Servicing northeast Maricopa County, including the Scottsdale, Paradise Valley and Cave Creek areas, the Vitalant Scottsdale donation center is located at 15170 N. Hayden Rd. #6, Scottsdale, AZ 85260. From the Pima Freeway (State Route 101), take the N. Frank Lloyd Wright Blvd. exit and head west, then make your first left onto Hayden Road. The donation center will be on the right across from the Costco.
The donation center is located toward the back of a medical office building. Just look for the purple Vitalant sign. There is an entrance on the east and west side of the building.
Blood donation types collected at this site are whole blood, platelets, plasma, and Power Red (double red cell). The location is open Tuesday through Saturday for all donation types. There is ample covered parking, including accessible parking spaces.