Every 2 seconds, someone in the U.S. needs blood . However, blood donations don't always keep up with that demand. Hospitals and blood services nonprofits have observed a common blood donation cycle throughout the year. What do we mean by that?
For starters, the summer months present challenges for the blood supply. When schools are out of session, fewer blood drives are scheduled. And as more people leave for vacation or deviate from regular routines, fewer people are available to donate.
The need for blood can also rise as more people become active outdoors. On the opposite end of the spectrum, winter creates problems of its own. Blood donations often decline during the colder months, too, owing to holidays, seasonal illnesses and inclement weather.
While Mother Nature certainly takes a toll on the blood supply, daily personal emergencies and ongoing medical needs of thousands of patients require a constant and ready supply of blood.
Wondering just how much blood and blood products are needed? Every day in the U.S., patients in hospitals, surgical centers and emergency treatment facilities need approximately:
29,000 units of red blood cells
5,000 units of platelets
6,500 units of plasma
The tricky part? Even with scientific breakthroughs happening all the time, no one's figured out how to manufacture blood — it can only come from selfless blood donors like you who choose to help others. Because blood has a shelf life, the supply must be constantly replenished by volunteer donors.
And hospitals face yet another challenge: For one reason or another, most people simply choose not to donate. We're not talking about a slight majority, either — 37% of the population is eligible to donate blood, yet only 5% actually do. You have the power to help turn these numbers around.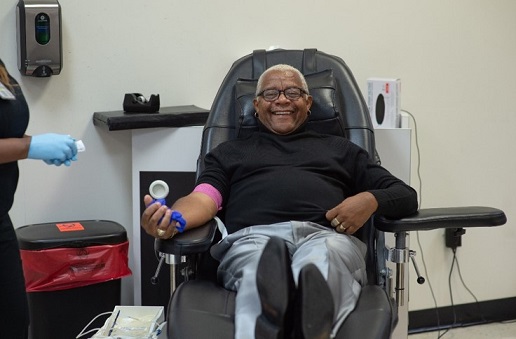 When you donate blood, you provide a lifesaving treatment for patients undergoing orthopedic surgery, experiencing trauma, or battling cancer and blood disorders. There's a critical need for blood, and it's the blood already on shelves that saves lives.
You play an invaluable role in the health and well-being of patients in your community and communities across the country — and we count ourselves lucky to have you as part of our lifesaving mission.
Please find it in your heart to help others by scheduling your appointment today.