You may wonder what happens to your blood donations after give at your local blood donation center. After your blood is collected, tested, processed and labeled, it's ready to be shipped to hospitals to help patients. That's when a department in Vitalant called Hospital Services goes into action.
Vitalant supplies blood and blood products to over 900 hospitals in 28 states. Because of Vitalant's large national reach, Hospital Services can deliver blood components to the where patients need it the most both locally and across the country.
The need to move blood may be seasonal as when snowbirds increase population—therefore the need for blood—in the southwest. It could be because of extreme weather events that limit blood collection in a certain region. It may also be necessary to ship blood out of state following a mass shooting such as the horrific event that occurred in Las Vegas in 2017.
When you consider how easy the blood donation process is, it's impressive how much good you are doing.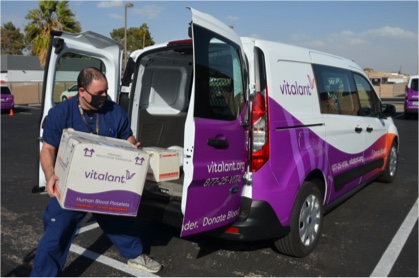 "I always knew I was never alone because of my blood donors, who selflessly donated their time and their blood. I get to live my dream of hopefully one day becoming a nurse to give back to my community, as they gave to me."
— Jaziel
Leukemia survivor

That's why it's so important to have an ample blood supply at the ready every day of the year. It's the blood already on hospital shelves that saves lives. And, when one hospital needs extra help because of extraordinary circumstances, Vitalant is there.
Learn More
about the impact your blood donation makes.
Ever wonder what happens to your blood after you donate?
Go on an immersive adventure to find out, and schedule your next appointment today at vitalant.org to make a lifesaving impact.
Published by: Brad D. — Vitalant Contributor