Even someone who has never donated blood understands that blood is used all the time to help hospital patients, and transfusions are commonplace.
But just how important is it that people give blood? It's the blood already on hospital shelves that saves lives, and here's a scenario demonstrating why. Imagine being on the liver transplant waiting list for a year, and a compatible liver finally becomes available. Then you get dreadful, unexpected news and feel your stomach tightening into a knot: The doctor says the transplant — the one you desperately need — must be postponed because there simply isn't enough blood available to perform the surgery.
That's only one type of patient a blood donation can help. A single critically injured patient has the potential to nearly wipe out a hospital's blood supply.And unfortunately, people are wounded every day, whether during car or motorcycle accidents, on the job, from domestic violence or gunshot wounds, construction tools or lawnmowers.
While trauma patients are probably what most people think of first when they hear about the need for blood, most blood donations are actually used by cancer patients, people with blood diseases and those who consistently need blood over time. And without these precious blood products at the ready, non-trauma patients could face a life or death situation.
Read about everyday people whose lives have been forever touched by the generosity of others.
Meet Brooke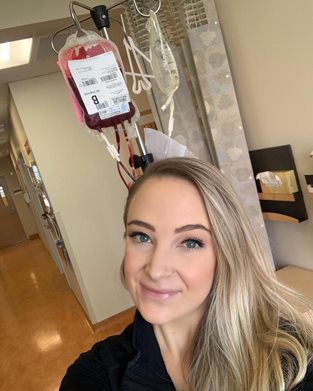 Brooke was born with a rare blood disorder called beta thalassemia. Her body doesn't make red blood cells properly, so she doesn't get the oxygen required to function normally. As a result, she needs monthly blood transfusions in order to survive.
"I've received more than 250 units of blood throughout my lifetime, and I am so grateful for all of Vitalant's incredible blood donors who volunteer their time to help patients who depend on regular transfusions," said Brooke. "Without blood donors, I wouldn't be here today."
Meet Jenni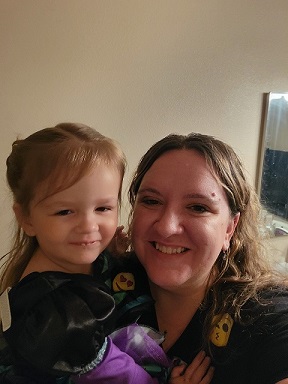 Jenni had looked forward to the birth of her baby with great anticipation — until she was diagnosed with leukemia at 14 weeks of pregnancy. And her cancer was aggressive and moving quickly.
Knowing how difficult it had been to get pregnant, Jenni's medical team worked with her on a special treatment protocol that would give both her and the baby the best chance to survive. Blood transfusions accompanied four rounds of chemotherapy, along with visits to the oncologist and obstetrician.
Baby Crystal was born healthy and strong at five pounds, four ounces, just shy of full term. Two years later, Jenni celebrates continued remission and her beautiful daughter, remaining incredibly thankful to the many blood donors who saved her life and the life of her baby girl.
"Never in my wildest dreams did I imagine something like this would happen," said Jenni. "It doesn't hit you how important it is until you need it, or someone you love is in need."
Learn about more people who survived because of the selfless actions of blood donors.
Saving the lives of patients across the country — people like Brooke, Jenni and Crystal — really is a team effort. Apart from the legions of doctors, surgeons, nurses and blood services volunteers needed, veteran blood donors are also integral and understand just how vital the blood supply is. But they can only do so much.
New blood donors are needed to help keep the donations flowing, particularly around the wintertime —seasonal illnesses, holidays and weather conditions can negatively impact blood drives. As a result, hospitals may not receive the full complement of blood supplies they need, which poses a risk to patient care. It really is life or death for patients, who can only hope there's enough blood on the shelf for an upcoming surgery or other treatment. Learn more about blood donation.
Because of you, life doesn't stop. Thank you for everything you do for patients.
Published by: Jeremy T. — Vitalant Contributor