When you donate blood at a Vitalant location, you're helping replenish the blood bank shelves with blood, platelets and plasma so they are available when hospitals need them. But you may not think about who's on the receiving end of that blood donation. As we celebrate Mother's Day in May, it's worth noting that in the U.S., transfusions are needed in 1 out of every 83 deliveries. That's why blood donation is a great way to mark Mother's Day or to honor the mother figure in your life.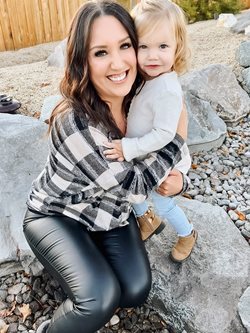 Your blood donation makes Mother's Day hugs possible for moms like Taylor, who cherishes every moment with her family, especially her daughter Peyton, after her harrowing childbirth experience. Were it not for people who donate blood, Taylor wouldn't be here.
Taylor describes her birth story with Peyton as "something I could have never imagined. It was not only the best day of my life, but also the scariest day of my life." After having what she describes as "the best pregnancy," Taylor thought her birth experience would be the same.
Despite a long labor, Peyton joined the world with no issues. While Taylor cried with joy and bonded with her baby girl, doctors worked on delivering her placenta. Complications occurred, and she began losing a lot of blood. The doctors were unable to stop the bleeding and had to rush Taylor to the operating room. During her ordeal, Taylor lost about 60% of her blood, and needed numerous blood transfusions as well as an emergency hysterectomy to save her life.
When she woke up intubated in the ICU remembering everything, Taylor's first thought was "where is my beautiful baby girl?"
"My wonderful husband and baby girl were able to visit me in ICU, and I recovered quickly. The next day, I was out of the ICU and back in postpartum care with my perfect little family. I cannot describe the feeling of being reunited with my loved ones after this," she said.
Fast forward a year to February 2021, and Taylor is sitting in the Vitalant bloodmobile at Northern Nevada Medical Center donating blood. "All I could think about in that moment was how I wished I could find and thank the people that sat in this chair to save my life. I am so incredibly thankful to not only be a blood transfusion recipient, but now a blood donor."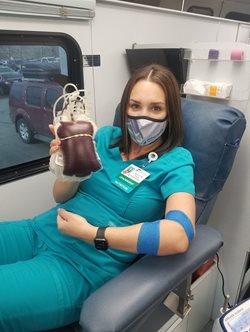 With her scary childbirth experience behind her, Taylor encourages donors to give blood to help other patients in need. "I share my story to hopefully touch someone who needs it. To show how truly precious our lives are. To push you to hug and kiss your loved ones extra today. To inspire you to live life to the fullest. And to encourage you to donate blood; it can truly save a life."