Imagine the following scenario: You set out on a mission — your lifesaving mission to save the lives of hospital patients through blood donation. But soon, you receive the disappointing news. You're told you have a blood donation permanent deferral and can't give blood…ever. (Learn more about basic blood donation eligibility.)
Don't worry, because your story doesn't have to end there. Even with a blood donation deferral, you can still help patients in a number of other ways!
Host a blood drive at a school, community blood drive or place of worship.
Volunteer as a driver or at a local blood drive.
Share your story to emphasize the importance of blood donation and inspire others to donate blood.
Make a financial gift to support Vitalant's areas of greatest need.
Help spread the word however you can.
Let's start with the first one. As a blood drive host, or coordinator, you'll encourage blood donors in your area to work toward a common goal. There's flexibility, too: On-site blood drives can be held almost anywhere, from churches and businesses to rec centers, libraries and clubhouses; or you can host a virtual blood drive and encourage people to donate at a local Vitalant blood donation center. If you want to gain leadership skills, be part of something that helps people, or if you desire to honor the memory of a loved one, you can make an extraordinary contribution toward your community and others.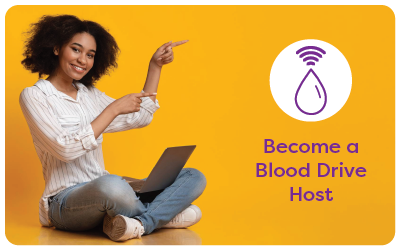 You can also volunteer at one of our donation centers or blood drives. There are several ways Vitalant can use your help, like welcoming and checking in donors when they arrive or assisting in the refreshments area to ensure that every donor has a snack and drink to replace fluids lost during the donation process. Volunteers also make our donors feel appreciated by thanking them for transforming patients' lives. After all, a little gratitude goes a long way! If you prefer, you can sign up as a driver or courier instead. Some of our locations rely on volunteers to pick up and deliver blood products, and you can be one of them. Find out what opportunities are available in your area.
Has your life been transformed by the generosity of others? Maybe you or someone you love needed a blood transfusion, and the everyday heroics of selfless donors helped ensure a happy ending. You can easily share your story with us to inspire others to take action. Just fill out our super-quick online form, type your story at the bottom of the page and click "Submit." It's that easy!
You can also make a financial gift. For some, doing so is the best or only way to support our lifesaving cause, or a way for current supporters to enhance their engagement with Vitalant's mission. Your monetary contribution will help others across the entire life spectrum, from newborn babies to victims of trauma to individuals affected by cancers and rare blood diseases. Vitalant's national network of blood centers and services, coupled with your selfless contribution, make everyday miracles happen. Charitable funds can even lead to scientific breakthroughs in transfusion medicine, vaccine development and other cutting-edge therapies.
Last but not least, be the messenger! Forward our emails and blog posts to people on your contact list, post on social media and include our website, vitalant.org, or discuss the importance of blood donation over dinner with family and friends. Basically, spread the word however you can.
Don't let a blood donation deferral stop you from saving lives. Encourage others to give as often as they can to help cancer patients, trauma survivors, newborn babies, mothers undergoing emergency transfusions during childbirth, and many more.
Whatever path you choose, you can still be an agent of change, a bringer of happiness and hope, and an everyday hero when patients need you most.
Thank you for being part of our lifesaving mission!
Published by: Jeremy T. — Vitalant Contributor