Warmer weather means an increase in outdoor activities and the potential for accidents. Because more people travel and become active outdoors, hospitals typically brace for an increase in the number of ER patients. Even more, new donors often delay giving blood because of summer vacation plans. Whether whisking themselves away to Cancun or a family-friendly resort for the kids, not as many donors are around to help out.
Presenting another challenge, many high schools and universities are out of session during the summer, which means fewer blood drives are held across the country. This creates a domino effect, and several thousand fewer blood donations are collected while the patient need usually increases.
But don't worry, because you can donate at a blood donation center close to your home instead by making an appointment on the Vitalant website or mobile app. Donors are always welcome, and our friendly staff will do everything they can to make you as comfortable as possible, from the moment you walk through our doors until the moment you leave.
Blood donation is a vital and lifesaving practice that helps millions of people in need every year, yet only a small percentage of the eligible population donates blood regularly. Despite the common misconception that young people can't give blood, the truth is that anyone 16 years old or older (with parental consent for 16- and some 17-year-olds if required by state or school) can donate. Everyone from college students and young adults to young parents can help save lives and contribute to their community.
Besides, donating blood can be a fun and rewarding experience, and a great way to meet new people and make friends. There's nothing to it, either. Just book an appointment, show up, get cleared for donation by one of our donor care specialists, and lie back during the 10 minutes or so it takes to collect your donation. Afterward, relax in our canteen and enjoy a tasty snack and drink to replenish your energy for the ride home. It's that easy! Learn more about blood donation.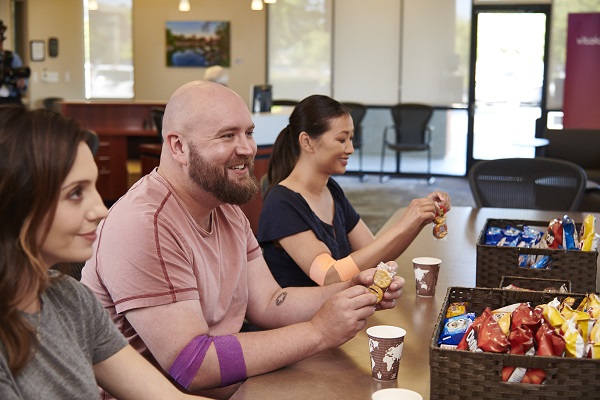 Why me?
Are donations really needed as badly as you keep hearing about? Very much so, and here's why: 1 in 4 of us, at some point in our life, will require a blood transfusion.
Blood is constantly needed for cancer patients, accident victims, patients with blood disorders and many others. There are thousands of people out there who need our help.
So whether it's your first time donating or your hundredth, whether you're still in school or a proud alum, know that every blood donor matters. Because every blood donor can make a difference.
And every blood donor can save a life.
Please schedule your appointment at your local blood donation center today.
Article published for the Vital Donor newsletter.