For 14 years in a row, Highland High School has won Vitalant's High School Blood Drive Challenge in Arizona by collecting the most blood donations. Last year, despite the pandemic, they hosted three blood drives which collected 417 total lifesaving donations.
Faculty advisors Bob Allen and Marissa Lopez attribute the school's success to strong student leadership of a collaborative, evolving program. Over the past 15 years, they have created a school culture where saving lives through blood donation is ingrained.
"Once the students embrace the culture of lifesaving blood donations, some of the donors come back as a habit," Allen said.
"Our program would not be anything without the student leaders and committee creating a lasting system," Lopez added. "The best thing we can do as advisors is to sit back and let them do their thing. We trust that our students are prepared and they trust that if there is something beyond their abilities, we will be there to assist them. That mutual trust is key to building a lasting success.";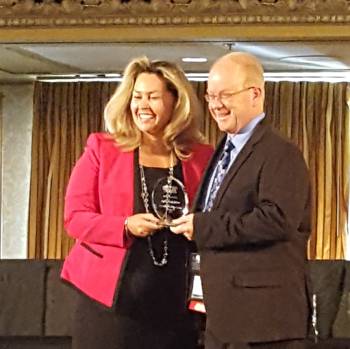 Each year HHS names two or three seniors in their Community Outreach Class, which organizes the drives, to a blood drive leadership team. They are assisted by juniors in the class who can then run the program during their senior year. The leaders delegate jobs, organize paperwork and oversee the student-run parts of the blood drives.
"The leaders who have been on the committee in their junior year tell us that the exposure and experience is incredibly valuable to keeping their motivation high and setting the example for a successful program," Lopez said.
Not only are students developing leadership skills, but also analytical skills – they review each blood drive and determine areas for improvement. For example, students identified that many of their peers are motivated by food.
"So, the student leaders have created a system of calling local restaurants to help provide food items/catering for each blood drive," explained Allen.
They encourage sophomores to become donors by expanding classroom visits to include them as more turn 16 during that academic year.
"Once they are old enough to get a license to drive, we believe that also gives them a license to save lives!" Allen and Lopez said.
HHS has grown their program and tried to create a communitywide commitment by hosting mobile blood drives at their elementary feeder schools.
Of course, the high school blood drive competition is a big motivator. "The healthy competitive spirit helps all the schools try to do their best," Allen said.
"And while competition is great, making it personal is the greatest motivator a committee can have," Lopez added. "We have had several blood recipients speak directly to our school about how the blood donation process has saved their lives. It's great when you can receive prizes and awards, but we try to remind everyone that, at the end of the day, it is all about giving people a second chance at life."
In addition to their Vitalant awards, Highland High School was honored with the ADRP 2017 and ABC 2015 School Blood Drive Awards, and one of their graduating student leaders earned the Vitalant Spirit of Giving scholarship.
Everyone's a winner thanks to HHS's blood drive program – most importantly, the patients who need transfusions!
If you have an inspiring story or tips for engaging students and faculty with high school blood drives that you'd like to share, please send them to MakeAnImpact@vitalant.org.