Blood Drive Coordinators play a vital role in supporting hospital patients in their community and, when the need arises, others across the country. A critical resource to their success is the support of a Vitalant Account Manager.
Vitalant Account Managers are a direct line to coordinators as they navigate the blood drive hosting process. Whether it's the coordinator's first or hundredth blood drive, Account Managers provide coaching, education, supportive direction, resources, and encouragement to help a coordinator reach their lifesaving goals.
Due to the vital relationship between coordinator and Account Manager, we are proud to celebrate Carina Fors, a Vitalant Senior Account Manager in Arizona. In May, Carina was awarded the ADRP Donor Recruiter of the Year Award.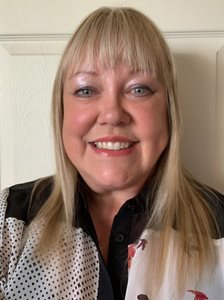 ADRP (Association of Donor Relations Professionals) is an association of blood-banking professionals that provides educational opportunities, networking, and resources to more than 900 subscribers from around the world. The Donor Recruiter of the Year Award was established in 1982 to recognize an outstanding donor recruiter in the blood banking industry. To be considered for this prestigious award, individuals must be nominated by their peers, demonstrate exceptional practices, and have their nomination reviewed and voted on by a nominations committee.
About Carina Fors, Senior Account Manager
Carina has served with Vitalant for 14 years. In this time, she has developed strong practices and relationships in the community that have supported countless successful blood drives saving lives in the Arizona community.
When interviewed, Carina shared a few of her best practices as an Account Manager:
Build strong rapport and trust with coordinators
Remain in constant communication with coordinators leading up to the blood drive
Request for feedback on what went well and what we could improve on
Take action on provided feedback
Send a customized thank you, including blood drive results, to coordinators
Develop and provide tailored educational information and materials that cater to the coordinator and their donor group
Be available to assist coordinators with what they need, when they need it (i.e. communications, donor support, materials, logistics)
Donor Recruitment Manager, Anna Oliver goes on to share, "Carina sets milestones for her coordinators and empowers the coordinators to take accountability, take action and gives them the desire to want to achieve goals… Carina assumes personal responsibility and does whatever is necessary to satisfy customers. She will work extra hours as needed. Her level of job knowledge is outstanding…"
These best practices have led to successful blood drives and strong relationships with coordinators.
"She cares, she really cares. Not only about the patients and the blood needed but about every coordinator individually. She has integrity, is very respectful, cordial, and kind...She has become a good friend!"
Donna Heitmann, Blue Ridge Community (15 years)
"When she is in, she is in! Whenever I have a question or something with the blood drive, she is always 100% there for me...She is all about how she can make things happen for her coordinators."
Bonnie Bouschet, Flagstaff Mall (10 years)
As a coordinator we encourage you to leverage your awesome Vitalant Account Manager as one of the many tools available to you for a successful blood drive!
Article published for the Vital Connections newsletter.