After he was involved in a serious car accident, doctors gave Dan a 50/50 chance at survival . But thanks to the blood donors who provided the 121 units of blood needed to help save his life, Dan has been able to mark significant milestones in the more than a decade since – including the birth of his two sons – as well as savor life's everyday moments.
"I look back and realize how thankful I am. I beat the odds. I'm very fortunate. Blood was key. Even with every tool a physician may have in their toolbox, they need blood to replace what's lost," he noted. "Blood is a very precious supply, and it doesn't matter what side of the aisle you're on, what skin color you have, how old you are – we all have it and we all need it."
On that fateful Friday the 13th in July 2012, the Colorado resident had left work early to pick up his seven-month pregnant wife for her sister's wedding rehearsal dinner. He'd stopped at a store to get a few things for the weekend. As Dan headed home with his purchases, a Jeep going the opposite direction hit his Jeep head on going 45 miles per hour.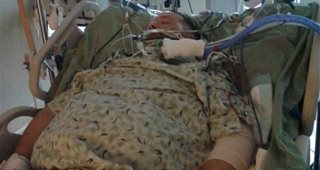 Dan was pinned inside his vehicle. He was able to wiggle his legs, toes, hands, and feet – then noticed a large gash on his left forearm. "I started to go into shock. Other people who stopped immediately attempted to calm me down, which worked. One gentleman asked me for my wife's phone number, called her and let her know where I was."
Megan arrived at the scene as rescue crews were extricating her husband. Dan doesn't remember anything after the ambulance rushed him to the hospital. Although he hadn't lost any limbs or vital organs, an artery to Dan's liver was severely damaged, causing him to bleed out internally. He was put in a medically induced coma for 37 days.
"The first day I remember (after the accident) was probably August 21 or 23. I'm not quite sure to this day."
During his recovery, Dan had to relearn walking and fine motor skills like tying his shoes, and regain his balance, coordination and endurance. He was happy to be alive, though. And when Dan heard how many units of blood helped to save his life, he became a vocal advocate for blood donation.
"That number alone was why I want to pay it forward," he said. "One hundred twenty-one units is a massive amount of blood."
In the decade since the accident, Dan has been able to watch his sons, who turn 10 and 7 in October, grow up. And celebrate wedding anniversaries and family moments with Megan, whose support during his recovery was crucial.
"All the important pieces had to be there: the blood donations, modern medicine and those things that made my recovery possible. But I couldn't have made it without my wife and my support system.
"I talk about my experience because I owe it to my family, so other families like mine have the same chance to stay together. If speaking about it helps others know that a selfless act can pay it forward to build memories – big ones and small ones – it hopefully will inspire people to donate blood."
Dan plans to mark the 10th anniversary of his accident simply: He and Megan will babysit for his sister-in-law so she can celebrate her 10th wedding anniversary.
"I'm happy to watch my nieces with my wife and my boys. I'm just going to enjoy having family around."
Article published for the Vital Donor newsletter.