Mother's Day is a special holiday for many moms, but especially those who have experienced life-threatening childbirth complications. Moms like Trish, Kate and Dani are beyond grateful to have survived, and know that their survival was possible because of the many blood donors who give selflessly.
Trish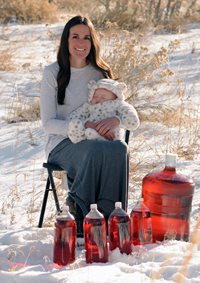 Trish was scheduled to deliver her daughter, Dobry, via cesarean hysterectomy because of a preexisting placenta issue. She knew the surgery following her delivery would be challenging, but nothing prepared her for what was to come.
Trish lost a lot of blood in the operating room and needed 52 units to survive. Her journey to recovery was long, consisting of eight surgeries and an additional 12 units of blood.
"Each day, I reflect in appreciation over the many, many people who sat in a chair and gave selflessly from their physical body, in order to save my life," Trish said. "I wish that I could meet them, and personally thank them for their effort. I wish I could introduce them to my husband and kids and let them see tangible evidence that their time and effort matter, and that because of them, I get to see my kids grow up."
Dobry is now 2 years old, and Trish is donating blood again. She says it's her goal to personally replenish the 64 units she received. "I feel so humbled and so lucky to be alive and to be able to raise my kids and to have my family."
Kate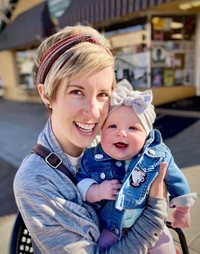 Shortly after giving birth to her daughter Agatha, Kate experienced a complete uterine inversion and started losing blood quickly. She was rushed to the operating room, where she underwent two surgeries and needed 14 units of blood and blood products.
Kate has had a long road to recovery, but she is grateful for those who gave blood so she could take care of her beautiful daughter.
"As a donor you'll likely never know the impact of what you're doing, but never doubt that you are actually saving someone's life," Kate said. "It makes a bigger difference than you can ever imagine to someone you'll never meet."
Dani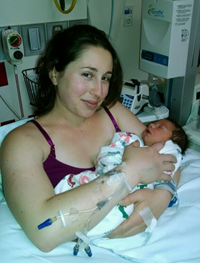 Dani describes her son's birth as the best and worst day of her life. Her labor was uneventful, but soon after Corbin arrived she began hemorrhaging. Dani was terrified she'd never see her family again as doctors rushed her to the operating room, where they saved her life by performing an emergency hysterectomy. She needed 10 units of blood and 6 units of blood products.
"My family and I will be forever grateful for the quick action of my medical team and especially for the selfless blood donors whose precious donations saved my life," Dani said. "It's because of you that I get to hold, kiss, snuggle, watch, teach and always be there for my son. Thank you!
In the five years since that day, Dani and Corbin have celebrated their "survivor-versary" every year at their local Vitalant donation center. Dani has been a blood donor since she was 18, and after recovering from Corbin's traumatic delivery she began donating platelets.
Last year, she was asked to make a special donation of granulocytes for a baby in the neonatal intensive care unit (NICU) because she was a match. (Granulocyte donors are prescreened because the donation must be transfused within 24 hours). These white blood cells are typically needed for patients undergoing chemotherapy, such as the baby Dani's donation went to, who was fighting multiple infections during cancer treatment.
"It was very emotional. I was already donating that day for Corbin's birthday and as soon as they told me who it was for, it felt like it was "bashert" – meant to be. It changed my outlook for the day, it felt so special.
"This patient probably had a birthday close to Corbin's, so it felt like I was paying it forward and giving it back for everyone who saved me and allowed me to hold my son. Now, these parents will be able to hold their child."