In late September, five lucky donors were randomly selected from a list of 130,000 donors to each win a $5,000 gift card/s of their choice in our Back-2-School Shopping Spree Giveaway. Several of these dedicated donors shared their excitement, and their motivations for donating blood.
Winner Aaron R. from West Sacramento, California, was skeptical when he received the call that he'd won. "But when I found out it was legitimate – I was blown away!" he said.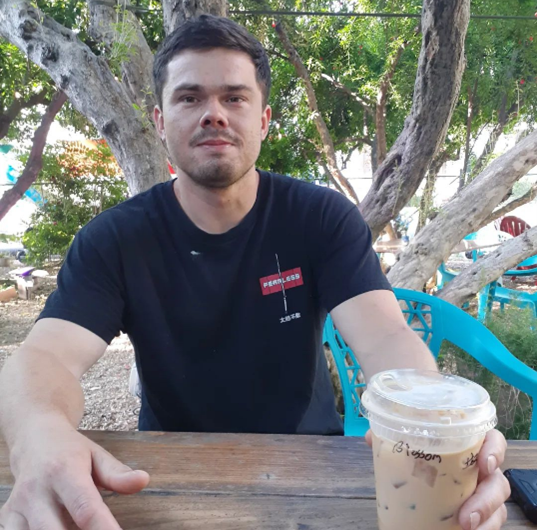 "I always wanted to donate because it seemed like a nice thing to do but was always nervous because I hate needles," he said. "Then I decided to just try it at least once when I saw a blood drive at the comic book store I go to."
Now Aaron has given 46 donations with Vitalant since 2017, including a whopping 18 platelet and combination platelet/plasma donations in 2023 alone! His advice to someone who has never donated: "If you ever have time to kill, this is a good way to spend it. Even if you go just once, it could make a big difference in someone's life."
Giveaway winners Caleb G. and Edward K. are also California donors. Caleb is a platelet/plasma donor with 36 lifetime donations at Vitalant. He started donating in high school and has been giving various combinations of platelet/plasma/red cell donations since. Edward K. is a Power Red donor who has already donated 13 times with Vitalant since 2020!
Michael M. from Benicia, California, has given blood three times already this year. "I was first motivated to donate blood to help lower my red blood cell count," Michael said. "After finding out that there is a massive blood shortage, I figured if I could help even in a small way, I would become a regular donor."
The final winner is Theresa H. from Watkins, CO, who gave whole blood with Vitalant for the first time in August but also has donated blood elsewhere. When Theresa learned she won a $5,000 gift card, she couldn't believe it at first.
"Then I was very excited that karma had turned around and gifted me for donating. I truly never thought of getting anything in return other than the satisfaction that I could help someone else who needed it!"
Theresa has great advice for people considering becoming a blood donor. "I would reassure them that it doesn't take a lot of time and that it helps in numerous ways. Someday they may need blood products for themselves, a family member, or friend. This is a good way to be selfless and pay it forward!
"If it was not for blood donations, my mother's life would have been shorter," Theresa added. "Why not help others in the same way?"