My name is Felecia Renee Mercado. I am a technical services support specialist at Vitalant in Pittsburgh, and a nearly 22-year Army veteran. I'm proud to have served my country and to be able to take skills learned through military training and apply them to my civilian career.
I initially joined the U.S. Army as a medical specialist/combat medic. My twin brother and I enlisted in April 2000 while still in high school. I wanted to follow in the footsteps of both my mother and father who are retired veterans. My mother and I served on the same post in Iraq during my first deployment (she was a civilian contractor at that time).
The hardest thing I've had to do was attend the funeral of one of my soldiers. You can never really prepare yourself for something like that. Often, your soldiers become like your children. You watch them make mistakes, advance and help them along the way and when something like that occurs, it's very difficult.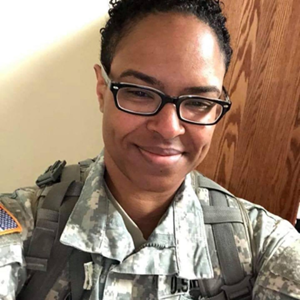 I am currently a sergeant first class who serves as an Army Reservist. My primary military occupational specialty is medical logistics. When on active duty, I supervise the ordering, receipt, storage and dispensing of medical equipment and supplies to units that need them.
The most important things I've learned while serving are patience, attention to detail and work ethic. In the Army as well as some other military branches, there is a saying, "hurry up and wait," and regardless of how much rank you achieve, the saying holds true and continues to teach me the true meaning of patience. I try to apply some of the skills I've learned while serving in the military to my civilian life and career at Vitalant.
I made that transition in 2011. I always knew that I wanted to work in the medical field, and although phlebotomy was not new to me when I started at Vitalant, working as a collections supervisor helped fine tune the skills I'd learned as a medic and gave me an appreciation for everyone involved in the donor-to-patient journey of blood donation.
I've since moved into an administrative role, where I audit and investigate blood donations, donor records and documentation so that lifesaving blood donations can be cleared to ship to hospitals and patients in need. I'm proud to serve the community through blood services.
The military has offered me lots of opportunities, including travel all over the world, education and a great career. I salute my fellow veterans across the country. To them I say, "Although not every day is easy, it's always worth it. Thank you for serving."
By Felecia Renee Mercado, technical services support specialist, Vitalant