Save Up to Three Lives with Your Whole Blood Donation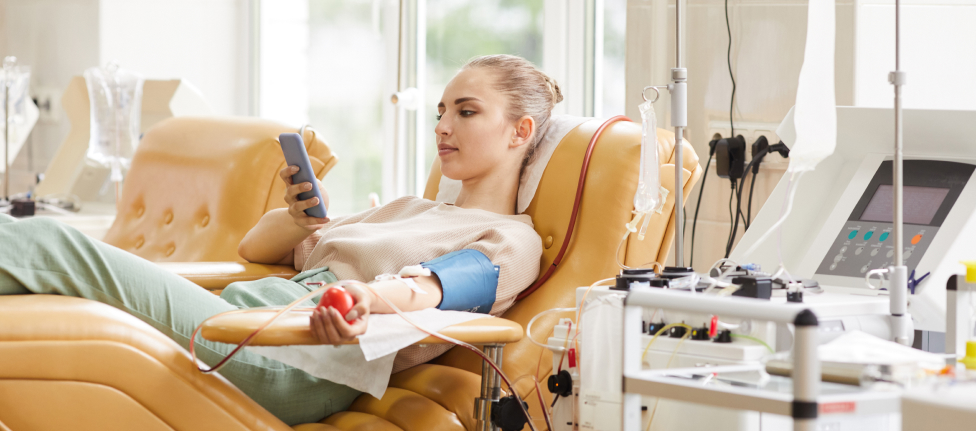 Your Whole Blood Donation Helps Many Types of Patients
Whole blood is the type of donation most blood donors make; it's the quickest blood donation and the one most familiar to people. Other types of donation include platelets, plasma and Power Red. A whole blood donation means giving about a pint of your blood.
Because whole blood can be divided into different parts, your donation may save more than one life. Whole blood donations can help many types of patients, and most often are used in surgery and trauma situations. Because patients need to receive blood from people with compatible blood types, whole blood donations from all blood types are always needed. Type O-negative is especially in demand because it is compatible with patients of any blood type.
Why should I give a whole blood donation?
Every 2 seconds a patient in the U.S. needs a transfusion. About 1 in every 7 people will need one at some point in their lives. Think about all the people you know. Chances are one of your friends, relatives, neighbors or even you will need blood. It's important blood is available immediately , especially in emergency situations when mere seconds can mean the difference between life and death. That's why we need people like you to donate blood as often as possible.
You know what else makes your whole blood donations so important? Blood can only come from human blood donors. Scientists have yet to find a way to manufacture whole blood in a lab.
If not you, who? First-time donor? Download our handy guide that answers your FAQs.
What are the benefits of a whole blood donation?
During your lunch hour you can save up to three lives! That's right, the entire process only takes about 60 minutes from check-in to enjoying snacks afterward. The actual blood donation usually takes 10 minutes. What other simple, volunteer activity can have a lifesaving effect in such a short time? The benefits to you are twofold: You get a mini-physical every time you donate (blood pressure, heart rate, cholesterol level, hemoglobin) and you'll feel great knowing you have had a profound effect on patients' lives!
Join our donor recognition program!
With as few as four whole blood donations, you can redeem points for electronically delivered gift cards to restaurants, movie theaters, retailers and more.

Is the blood donation process safe?
The safety of our blood donors and the patients receiving blood is always top priority. Our procedures include sterile, single-use equipment for each blood donation, that mini-physical we mentioned, and testing of each blood donation for a variety of blood-borne diseases.
You can also help ensure you have the best possible donation experience by following a few simple tips such as eating a healthy low-fat meal a few hours before you donate and hydrating with non-alcoholic fluids before and after your donation. Head over to our blood donation process page for details and a downloadable guide.

Ready to schedule your whole blood donation?
Schedule your whole blood donation online today and save up to 3 lives.