Join Vitalant, women's health advocates and the community to honor and support women who have experienced pregnancy-related complications. Donate for Mothers is a meaningful way for individuals and groups to honor, support and celebrate the diverse mothers in their lives by donating blood or hosting a blood drive any day throughout the year. To find out more about Donate for Mothers, click here.
There are two ways to register to donate blood in support of the Donate for Mothers in May cause:

OPTION 1: Give blood with Donate for Mothers in May no matter where you live
May 1, 2023
Good Samaritan Medical Center
May 17, 2023
Steamboat Springs
Saint Joseph Hospital
Rose Medical Center
Longmont United Hospital
May 2, 2023
Avista Hospital
Kaiser Permanente - Baseline
May 18, 2023
Steamboat Springs
Saint Joseph Hospital
May 3, 2023
Sky Ridge Medical Center
Longmont United Hospital
Flatiron Crossing
May 19, 2023
Kaiser Permanente - Parkside
May 4, 2023
UCHealth Highlands Ranch
Highlands Ranch Northridge Rec Center
May 22, 2023
Banner McKee Medical Center
May 6, 2023
Wheat Ridge Animal Hospital
May 23, 2023
Grand River Hospital
Boulder Community Foothills Hospital
Kaiser Permanente - Smoky Hill
Kaiser Permanente - Lone Tree
May 8, 2023
Lutheran Medical Center
Adams 12 Athletics and Activities
May 24, 2023
Catch the Fire
Parker Adventist Hospital

May 26, 2023
Medical Center of Aurora
May 9, 2023
Ace Hardware of Jewel
Castle Rock Adventist Health Campus
Middle Park Health
May 30, 2023
Kaiser Permanente - Westminster
May 10, 2023
Yuma District Hospital
May 31, 2023
Vibra Hospital of Denver
Flatirons Communitiy Church
St. Mary's Medical Center
May 11, 2023
East Morgan County Hospital
UCHealth (MAC)

May 12, 2023
Porter Adventist Hospital
June 1, 2023
National Jewish Health

June 2, 2023
UCHealth Aurora
May 14, 2023
Elizabeth United Methodist Church

May 15, 2023
Montrose Regional Health

May 16, 2023
Rocky Mountain Regional Medical Center
Platte Valley Medical Center
Other Donate for Mothers Blood Drives in Vitalant's Mountain Division:
OPTION 2: Give blood with Donate for Mothers no matter where you live.
Simply join the Donate for Mothers virtual blood drive by choosing your preferred donation center below and clicking the link.
After you join, you will be redirected to our scheduling site where you can then enter your preferred zip code to make an appointment at any Vitalant donation center or blood drive.
Be sure to use the same email address you used to join the virtual blood drive when you donate to ensure your donation will count toward Donate for Mothers.
Boulder
3113 28th St.
Boulder, CO, 80304
Join the Virtual Blood Drive!
Colorado Springs
3670 Austin Bluffs Pkwy., Ste. 110
Colorado Springs, CO, 80918
Join the Virtual Blood Drive!
Golden
13952 Denver West Pkwy. Bldg. 53, Ste. 335
Golden, CO, 80401
Join the Virtual Blood Drive!
Greeley
1831 65th Ave., Unit 2
Greeley, CO 80634
Join the Virtual Blood Drive!
Denver
717 Yosemite St.
Denver, CO 80230
Join the Virtual Blood Drive!
Parker
10259 S. Parker Rd., Ste. 104
Parker, CO 80134
Join the Virtual Blood Drive!
Littleton
5066 S. Wadsworth Blvd., Ste. 111
Littleton, CO 80123
Join the Virtual Blood Drive!
Westminster
960 W. 124th Ave.
Westiminster, CO 80234
Join the Virtual Blood Drive!
Highlands Ranch
541 West Highlands Ranch Parkway
Highlands Ranch, CO 80129
Join the Virtual Blood Drive!
Grand Junction
561 25 Rd Suite 102/B
Grand Junction, CO 81505
Join the Virtual Blood Drive!
Donors may also participate in the Donate for Mothers Virtual Blood Drive at Vitalant's Wyoming and Rapid City donation centers.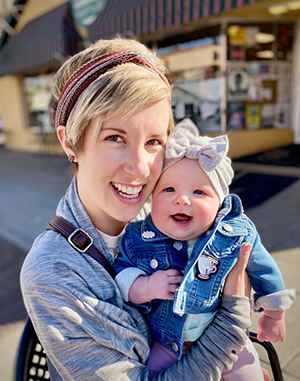 Shortly after giving birth to her daughter Agatha, Kate experienced a complete uterine inversion and started losing blood very quickly. She was rushed to the OR where she underwent two surgeries, resulting in the need for 14 units of blood and blood products.

Kate has had a long road to recovery, but she is grateful for those who gave blood so she could take care of her beautiful daughter.

"As a donor you'll likely never know the impact of what you're doing, but never doubt that you are actually saving someone's life," Kate said. "It makes a bigger difference than you can ever imagine to someone you'll never meet."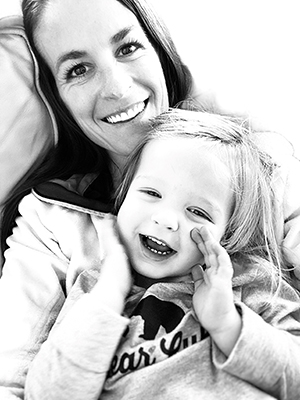 Trish was scheduled to deliver her daughter, Dobry, via cesarean hysterectomy, and she knew that the surgery following her delivery would be challenging, but nothing prepared her for what was to come. Trish lost 27 liters of blood in the operating room and needed 52 units of blood to survive. Her journey to recovery was long, consisting of eight surgeries and an additional 12 units of blood.
"Each day, I reflect in appreciation over the many, many people who sat in a chair and gave selflessly from their physical body, in order to save my life," Trish said. "I wish that I could meet them, and personally thank them for their effort. I wish I could introduce them to my husband and kids and let them see tangible evidence that their time and effort matter, and that because of them, I get to see my kids grow up."
Dobry is now 2 years old, and Trish is donating blood again. She says it's her goal to personally replenish the 64 units she received. "I feel so humbled and so lucky to be alive and to be able to raise my kids and to have my family."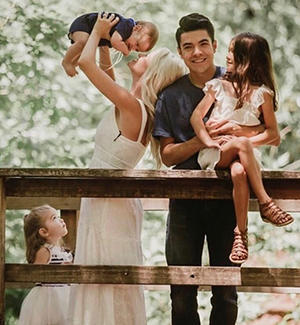 When you give blood, you could help a new mom experiencing complications after childbirth go home to her baby. Blood transfusions can be especially critical for women who experience emergencies during pregnancy.
A total of 48 units of blood and multiple plasma transfusions helped save Nicole's life when she experienced an amniotic fluid embolism while giving birth to her third child, Haxton.
"I wish I could tell my donors that I am grateful for their donation not only because it saved my life, but it gave me a chance to meet my son and helped make sure my children didn't grow up without a mom," Nicole said.