Vitalant Denver Donation Center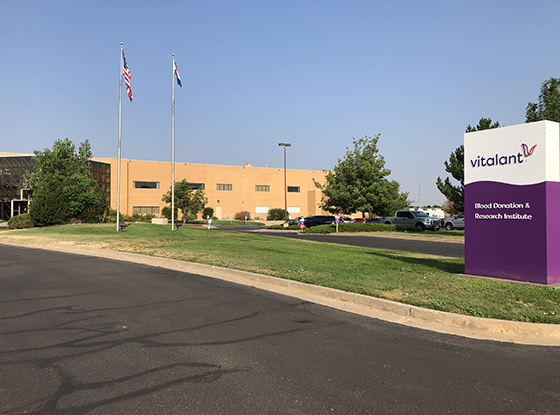 Address
717 Yosemite St.
Denver, CO 80230
(877) 258-4825
Schedule now
Hours
7:00 am-6:30 pm

7:00 am-6:30 pm

8:00 am-4:00 pm

7:00 am-6:30 pm

7:00 am-6:30 pm

7:00 am-6:30 pm

7:00 am-6:30 pm
The Lowry donation center at 717 Yosemite St., Denver, CO 80230, serves metro Denver, Strasburg and Bennet. When you arrive, enter through the main door to a large lobby. The donation center is just ahead on the right.
This location is also Vitalant's Colorado headquarters and houses the Research Institute that leads the way in understanding new threats to blood safety and helps to find practical applications of new knowledge in transfusion biology.
Blood donation types collected at this site are whole blood, platelets, plasma, and Power Red (double red cell). The location is open seven days a week for all donation types.
The parking area is large, offering plenty of nearby spaces, and accessible parking is available.