Vitalant El Paso East Blood Donation Center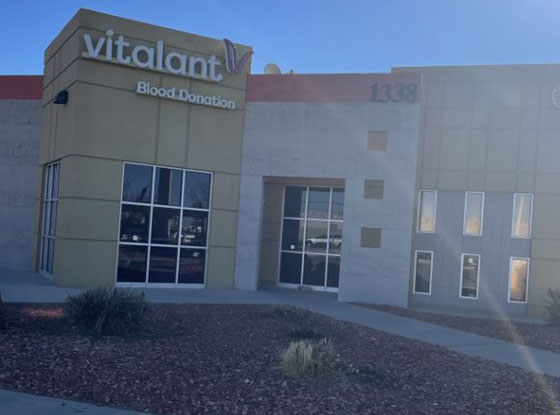 Address
1338 N Zaragosa Rd
El Paso, TX 79936
(877) 258-4825
Schedule now
Hours
9:00 am-6:00 pm

9:00 am-6:00 pm

9:00 am-6:00 pm

12:00 pm-7:00 pm

7:30 am-3:00 pm

7:30 am-3:00 pm

8:00 am-12:00 pm
Our Vitalant El Paso East Side blood donation center is located at 1338 N. Zaragosa Road in El Paso, TX, 79936. This Vitalant donation center is located in the El Paso region and serves blood donors in the city of El Paso, and surrounding towns including Stone Ridge, Las Palmas, Ranchos Del Sol and more.
Blood donation in El Paso, TX, is safe and easy to do, and it can transform the lives of others. Hundreds of thousands of people in the U.S. need blood transfusions every day. Help meet this need by giving blood near you at a Vitalant blood center today. Schedule an appointment to give back to your community in a meaningful way!
Blood donation types collected at this site are whole blood and Power Red (double red cell). The location is open every day. The parking area is conveniently sized, offering plenty of nearby spaces, and accessible parking is available directly in front of the center.