Vitalant Elk Grove Blood Donation Center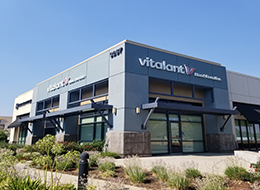 Address
9267 Laguna Springs Dr., Ste 100
Elk Grove, CA 95758
(877) 258-4825
Schedule now
Hours
6:00 am-1:00 pm

7:30 am-2:30 pm

10:30 am-5:30 pm

7:30 am-2:30 pm

7:30 am-2:30 pm

7:30 am-2:30 pm

7:15 am-1:00 pm
The Vitalant Elk Grove blood donation center is located at 9267 Laguna Springs Dr., Suite 100, Elk Grove CA, 95758, and serves blood donors in south Sacramento communities including Elk Grove, Laguna, Franklin and Sheldon.
Look for our Vitalant sign on the freestanding building, which offers free parking including accessible parking spots. Inside, the types of donations you can make are whole blood, plasma, platelets, Power Red (double red) and source plasma, in our warm, inviting atmosphere. We have bilingual staff to assist our Spanish-speaking donors.
Donating blood in Elk Grove, CA, is safe and easy to do, and it can help save lives. Whether you give a whole blood, platelet, plasma or Power Red donation, your donation can help someone in need—and make a huge difference in your community. Our Vitalant Elk Grove blood donation center needs blood donors of all blood types, so if you've never donated before or haven't in a while, we hope to see you soon.