Vitalant Folsom Blood Donation Center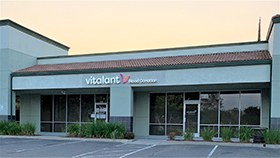 Address
150 Natoma Station Dr.,Ste 500
Folsom, CA 95630
(877) 258-4825
Schedule now
Hours
7:30 am-3:00 pm

11:00 am-6:15 pm

11:00 am-6:15 pm

11:00 am-6:15 pm

7:30 am-2:45 pm

7:30 am-2:45 pm

7:30 am-1:30 pm
Vitalant's Folsom blood donation center is located at 150 Natomas Station Drive, Suite 500, Folsom, CA, 95630, and serves blood donors in the city of Folsom as well as Orangevale, Rancho Cordova and surrounding areas.
The blood donation center is located in a plaza across the street from Folsom Premium Outlets. Parking is free and includes accessible parking spaces.
You won't get the blues knowing you're saving lives by donating whole blood, platelets, plasma, source plasma or Power Red (double red) for hospital patients.
Donating blood in Folsom, CA, is safe and easy to do, and it can help save lives. Whether you give a whole blood, platelet, plasma or Power Red donation, your donation can help someone in need—and make a huge difference in your community. Our Vitalant Folsom blood donation center needs blood donors of all blood types, so if you've never donated before or haven't in a while, we hope to see you soon.