Vitalant Las Vegas Northwest Blood Donation Center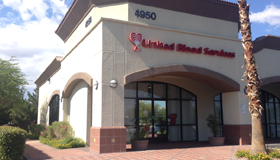 Address
4950 West Craig Road
Las Vegas, NV 89130
(877) 258-4825
Schedule now
Hours
Closed

12:30 pm-7:30 pm

12:30 pm-7:30 pm

10:00 am-5:00 pm

7:00 am-3:00 pm

7:00 am-3:00 pm

Closed
Approximately 7 miles northwest of downtown is the Las Vegas Northwest donation center that serves the Centennial, Aliante, Skye Canyon and North Las Vegas neighborhoods. It is located in the Albertson's Shopping Center at 4950 W. Craig Road, Las Vegas, NV 89130 (intersection of Craig Rd. and Decatur Blvd.).
Donating blood in Las Vegas Northwest, NV, is safe and easy to do, and it can help save lives. Whether you give a whole blood, platelet, plasma or a Power Red donation, your donation can help someone in need—and make a huge difference in your community. Our Vitalant Las Vegas Northwest blood donation center needs blood donors of all blood types, so if you've never donated before or haven't in a while, we hope to see you soon.
Blood donation types collected at this site are whole blood, platelets, plasma, and Power Red (double red cell). The location is open Tuesday to Saturday for all donation types; it is closed on Sundays and Mondays. There is ample parking including accessible parking spaces. There is Spanish-speaking staff at this center.