Vitalant Merced Blood Donation Center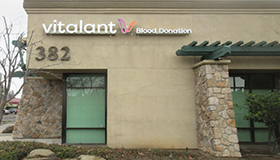 Address
382 East Yosemite Ave.
Merced, CA 95340
(877) 258-4825
Schedule now
Hours
8:00 am-3:00 pm

11:00 am-5:45 pm

11:00 am-5:45 pm

7:00 am-2:00 pm

Closed

Closed

7:00 am-2:00 pm
If you live in or near Merced, stop by our blood donation center at 382 East Yosemite Ave., Merced, CA 95340, where everybody knows your name. Located in the plaza behind the gym on Yosemite Ave., the Vitalant Merced blood donation center can be easily found by looking for the Vitalant sign at the corner of the street and on the building.
There is plenty of free parking, including accessible parking, in the lot. This beautiful, well-kept location is the only Vitalant blood donation center in the area, and has bilingual staff to assist Spanish-speaking donors.
Donating blood in Merced, CA, is safe and easy to do, and it can help save lives. Whether you give a whole blood, platelet, plasma or Power Red donation, your donation can help someone in need—and make a huge difference in your community. Our Vitalant Merced blood donation center needs blood donors of all blood types, so if you've never donated before or haven't in a while, we hope to see you soon.
HOURS MAY VARY. Please call (877) 258-4825 to confirm today's center hours and your appointment if you have not received a confirmation email, text or phone call.You can also book online at donors.vitalant.org where available time slots for specific donation types are designated.

​We welcome walk-ins but those with appointments are given priority.