Vitalant Mesa Blood Donation Center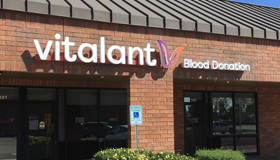 Address
1337 S Gilbert Rd., #101
Mesa, AZ 85204
(Gilbert Rd. & Hampton Ave.)
(877) 258-4825
Holiday hours may vary. Closed for lunch & other duties:
Tue - Thu: 1:00 pm - 2:30 pm
Fri & Sat: 10:00 am to 11:30 am
Schedule now
Hours
9:30 am-4:30 pm

9:00 am-6:00 pm

9:00 am-6:00 pm

10:00 am-5:00 pm

7:00 am-2:00 pm

7:00 am-2:00 pm

7:00 am-2:00 pm
Servicing eastern Maricopa County, including Mesa, Queen Creek and San Tan, the Vitalant Mesa donation center is located at 1337 S. Gilbert Rd. #101, Mesa, AZ 85204, just south of E. Southern Ave. Be careful using your GPS: It may try to send you to the town of Gilbert, AZ, but the donation center loction is on Gilbert Road in the city of Mesa, AZ, behind the Indian Oven restaurant.
If you are using State Route 60, take the Gilbert Road exit north. The donation center is less than a half mile north.
Blood donation types collected at this site are whole blood, platelets, plasma, and Power Red (double red cell). The location is open Sunday to Thursday for platelet donations and Tuesday through Saturday for all other donation types. There is ample parking, including an accessible parking space.
Donating blood in Mesa, AZ, is one of the fastest and most effective ways to give back to your community and transform the lives of those in need. Our Vitalant Mesa blood donation center puts donor and patient safety as our top priority. Donating blood is safe and easy to do. Become a blood donor in Mesa by making an appointment today! Our friendly professional staff is ready to assist you in the blood donation process.