Vitalant Parker Blood Donation Center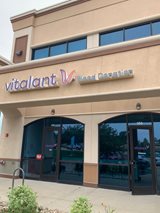 Address
10259 S. Parker Rd.
Suite 104
Parker, CO 80134
(877) 258-4825
Schedule now
Hours
7:00 am-6:30 pm

7:00 am-6:30 pm

7:00 am-2:30 pm

7:00 am-6:30 pm

7:00 am-6:30 pm

7:00 am-2:30 pm

7:00 am-6:30 pm
The Parker donation center is located in the High Pointe Shopping Center at 10259 S. Parker Rd., #104, Parker, CO 80134, just south of Lincoln Avenue. This center serves the communities of Parker, southeast Aurora, Castle Rock and parts of Denver.
The Vitalant Parker donation center is one of the few modern three-story buildings in the vicinity. However, the location can only be accessed on southbound Parker Road. (Tip for new donors: Keep a look out; if you pass the Hickory House, you've gone too far.)
Blood donation types collected at this site are whole blood, platelets, plasma, and Power Red (double red cell). The location is open seven days a week for all donation types.
There is ample parking with accessible parking spots shared by other businesses available.