Vitalant Phoenix Blood Donation Center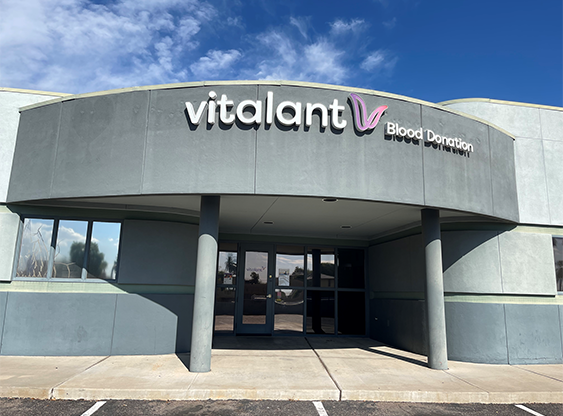 Address
5757 N. Black Canyon Hwy.
Phoenix, AZ 85015
(1-17 & Bethany Home Rd.)
(877) 258-4825
Holiday hours may vary. Closed for lunch & other duties:
Tue - Thu: 1:00 pm - 2:30 pm
Fri & Sat: 10:00 am to 11:30 am
Schedule now
Hours
Closed

9:00 am-6:00 pm

9:00 am-6:00 pm

10:00 am-5:00 pm

7:00 am-2:00 pm

7:00 am-2:00 pm

7:00 am-2:00 pm
The Vitalant Phoenix donation center is located at 5757 N. Black Canyon Hwy, Phoenix, AZ 85015 very close to the Bethany Home Rd. exit off of I-17. It serves the Phoenix metro area with its bright and open floor plan.
Blood donation types collected at this site are whole blood, platelets, plasma, Power Red (double red cell), therapeutic donations, and granulocytes. The location is open Tuesday to Sunday for platelet donations and Tuesday through Saturday for all other donation types. It is closed on Mondays.
The donation center is a freestanding gray building on the east side frontage road parallel to the interstate and has plenty of parking with convenient accessible parking. The center has Spanish-speaking staff.
Donating blood in Phoenix, AZ, is one of the fastest and most effective ways to give back to your community and transform the lives of those in need. Our Vitalant Phoenix blood donation center puts donor and patient safety as our top priority. Donating blood is safe and easy to do. Become a blood donor in Phoenix by making an appointment today! Our friendly professional staff is ready to assist you in the blood donation process.