Vitalant Placerville Blood Donation Center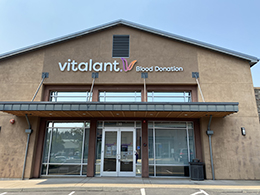 Address
4278 Golden Center Dr., Ste 110
Placerville, CA 95667
(877) 258-4825
Schedule now
Hours
Closed

10:30 am-5:30 pm

10:15 am-5:15 pm

8:00 am-3:00 pm

7:00 am-1:45 pm

7:15 am-12:15 pm

Closed
The Vitalant Placerville blood donation center serves not only the city of Placerville but also towns within El Dorado County from Cameron Park to Pollock Pines, such as Sutter Creek, Jackson and Grizzly Flat. Located at 4278 Golden Center Drive, Suite 110, Placerville, CA 95667, this blood donation center is in same building as Schools First Credit.
Look for the Vitalant sign on the kiosk at the parking lot entrance, as well as on the building. There is free parking including accessible parking spaces in the lot. Types of donations collected here are whole blood, Power Red, platelets and plasma.
The Placerville blood donation center is known for its cozy, friendly atmosphere and caring, professional staff that includes bilingual employees to assist Spanish-speaking donors. The donation center is open Tuesday through Saturday but hours vary depending on donation type.