Vitalant San Mateo Blood Donation Center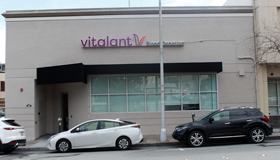 Address
48 2nd Avenue
San Mateo, CA 94401
(877) 258-4825
Schedule now
Hours
11:30 am-6:30 pm

11:30 am-6:30 pm

11:30 am-6:30 pm

11:30 am-6:30 pm

7:30 am-2:30 pm

7:30 am-2:30 pm

8:00 am-3:00 pm
The Vitalant Peninsula/San Mateo donation center at 48 2nd Ave., San Mateo, CA 94401, is the place to go for donors from San Mateo and the San Francisco Peninsula area. This donation location is across the street from Mills Health Center. Paid on-street and lot parking are available nearby.
This center has several bilingual (non-certified) staff who speak Spanish, Tagalog and Chinese. Donation types collected are whole blood, platelets, plasma and Power Red.
Blood donation in San Mateo, CA, is safe and easy to do, and it can transform the lives of others. Thousands of people in the U.S. need blood transfusions every day. Help meet this need by giving blood near you at a Vitalant blood center today. Schedule an appointment to give back to your community in a meaningful way!