Vitalant Santa Rosa Blood Donation Center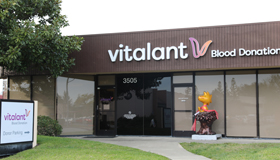 Address
3505 Industrial Drive
Santa Rosa, CA 95403
(877) 258-4825
Schedule now
Hours
7:30 am-2:30 pm

11:30 am-6:30 pm

11:30 am-6:30 pm

11:30 am-6:30 pm

7:30 am-2:30 pm

7:30 am-2:30 pm

8:00 am-3:00 pm
If you live or work in the cities of Santa Rosa, Sebastopol or Rohnert Park, stop by our blood donation center at 33505 Industrial Dr., Santa Rosa, CA 95403, and save some lives.
This blood donation center is in a standalone building near the statue of Woodstock from Peanuts and has its own parking lot with plenty of free parking including accessible parking spaces. There is a Spanish-speaking staff member to assist our Spanish-speaking donors.
Types of donations collected at this blood donation center are whole blood, Power Red, platelets and plasma. The site is open 7 days a week for all the donation types.