Vitalant Spokane Valley Blood Donation Center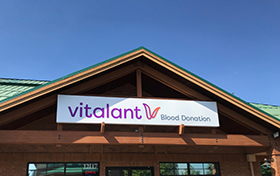 Address
12117 E Mission Ave
Spokane Valley, WA 99206
(877) 258-4825
Schedule now
Hours
7:00 am-3 pm

10:00 am-6:00 pm

10:00 am-6:00 pm

11:00 am-6:00 pm

7:00 am-3:00 pm

7:00 am-2:00 pm

Closed
Our Vitalant Spokane Valley blood donation center is conveniently located at 12117 E Mission Avenue in Spokane Valley, WA, 99216. The Vitalant Spokane Valley location donation center serves blood donors within the city, and surrounding towns including Dishman, Milwood, Vera and more.

Blood donation types collected at this site are whole blood and Power Red (double red cell). The location is open every day except Sundays. The parking area is large, offering plenty of nearby spaces, and accessible parking is available.

Donating blood in Spokane Valley, WA, is one of the fastest and most effective ways to give back to your community and transform the lives of those in need. Our Vitalant – Spokane Valley blood donation center puts donor and patient safety as our top priority. Donating blood is safe and easy to do. Become a blood donor in Spokane Valley by making an appointment today! Our friendly professional staff is ready to assist you in the blood donation process.