Vitalant Tempe Blood Donation Center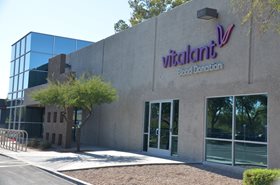 Address
1524 W. 14th St. #120
Tempe, AZ 85281
(877) 258-4825
Holiday hours may vary. Closed for lunch & other duties:
Tue - Thu: 1:00 pm - 2:30 pm
Fri & Sat: 10:00 am to 11:30 am
Schedule now
Hours
Closed

9:00 am-6:00 pm

9:00 am-6:00 pm

10:00 am-5:00 pm

7:00 am-2:00 pm

7:00 am-2:00 pm

Closed
The Vitalant Tempe donation center is located at 1524 W. 14th St. #120, Tempe, AZ 85281 and serves Tempe, east and south Phoenix, south Scottsdale, Chandler, and Maricopa. The Vitalant donation center is accessed easily from State Route 143 or Interstate 10.
Once at the Vitalant Tempe address, the donation center is located on the far east side of an industrial building which also houses Vitalant's southwest division offices. Look for the set of glass doors to find the donation center. There is ample parking with many accessible parking spaces near the entrance.
Blood donation types collected at this site are whole blood, platelets, plasma, and Power Red (double red cell). The location is open Tuesday through Saturday for all donation types.
Donating blood in Tempe, AZ, is one of the fastest and most effective ways to give back to your community and transform the lives of those in need. Our Vitalant Tempe blood donation center puts donor and patient safety as our top priority. Donating blood is safe and easy to do. Become a blood donor in Tempe by making an appointment today! Our friendly professional staff is ready to assist you in the blood donation process.