Vitalant Yuba City Blood Donation Center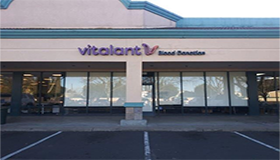 Address
1290 Stabler Lane, Ste 830
Yuba City, CA 95993
(877) 258-4825
Schedule now
Hours
11:00 am-6:00 pm

Closed

Closed

Closed

7:00 am-12:00 pm

7:00 am-12:00 pm

7:00 am-12:00 pm
If you live or work in Yuba City, South Yuba City, Marysville or Binney Junction and want to donate blood, come visit our Yuba City donation center at 1290 Stabler Lane, Suite #830, Yuba City, CA 95993.
Our homey blood donation center with a small-town atmosphere is located in the Feather Down's Shopping Center, next to the AAA offices. There is plenty of free parking available, including accessible parking spaces.
Types of donations collected at the Yuba City blood donation center are whole blood, plasma, platelets and Power Red.
Blood donation in Yuba City, CA, is safe and easy to do, and it can transform the lives of others. Thousands of people in the U.S. need blood transfusions every day. Help meet this need by giving blood near you at a Vitalant blood center today. Schedule an appointment to give back to your community in a meaningful way!