For many of us, going to the Super Bowl in person is a bucket list experience, a dream. And that's just how Matthew Reese, an Albuquerque, New Mexico, blood donor described his experience after winning Vitalant's Big Trip to the Big Game giveaway.
"It was like a dream! I've never experienced anything like that in my life. It was a once-in-a-lifetime opportunity."
Matthew, whose blood type is O-negative, has been donating blood since his early 20s. He recently Powered Up to Power Red donations, giving two units of red cells during one donation and maximizing his lifesaving impact. His work as an OR nurse in an Albuquerque hospital gives him firsthand experience how important it is that blood is available for patients when they need it. If that wasn't enough motivation to donate, his wife, a nurse in the NICU, reminds him that most newborns should only receive type O-negative blood.
It's obvious Matthew already felt like a winner as a lifelong blood donor. Then an extraordinary thing happened: He received a call telling him that he was the winner of a trip to Glendale, Arizona, to attend the Big Game and watch the two conference champs face off.
The trip included not only tickets to the Big Game, but also four-night accommodations at a resort in Scottsdale, tickets to the official pre-game experience and tailgate party, plus $2,000 to cover other expenses. As a happy bonus for Matthew and his wife, they were able to combine a visit to see his parents who live in Glendale.
"The trip was amazing!" said Matthew who, along with his wife, enjoyed every moment of the momentous event. His wife, a big fan of the Food Network, particularly enjoyed the tailgate party where she met – and was even served by – one of her favorite celebrity chefs.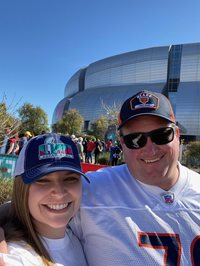 And of course, they had a blast at the game. Matthew couldn't choose just one favorite part. "I love that they used an all-female pilot crew for the pregame flyover." Another big highlight for Matthew was the pregame show with Chris Stapleton, Baby Face and Sheryl Lee Ralph, and Rihanna's halftime show. "They did a great job singing. Rihanna was fantastic … I didn't know she was pregnant! When she was lifted up on those risers, it was amazing!"
The excitement of the trip reinforced Matt's dedication to blood donation. He has already scheduled his next appointment in March and is encouraging others, including his O-negative father-in-law, to donate blood as well.
Matthew has a message for his fellow blood donors: "Your donation with Vitalant will truly bless people's lives in critical moments when they need it most. As a nurse, I have witnessed this happen time and time again. Thank you all for your donations!"
Reflecting on this once-in-a-lifetime trip Matthew got to share with his wife, he said, "It opened our eyes to live life fully and take every moment you can to share experiences with your loved ones.
Article published for the Vital Donor newsletter.