Each year, America's Blood Centers (ABC) recognizes individuals, civic groups, media and corporations for their commitment to community and national blood programs through their Awards of Excellence program.
Vitalant has been recognized with two awards this year: The illustrious Thomas F. Zuck Lifetime Achievement Award for Dr. Michael P. Busch and Outstanding Public Relations Campaign for the COVID Rescue Team.
Lifetime Achievement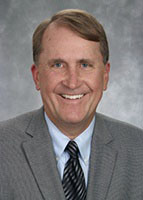 The Thomas F. Zuck Lifetime Achievement Award honors an individual for applying clinical, medical and scientific research to improve blood collection methods and the safety and efficacy of products provided to patients. Dr. Busch serves as senior vice president of research and scientific affairs and director of the Vitalant Research Institute. With more than 20 years of experience at Vitalant, he is regarded as one of the world's leading transfusion medicine scientists.
In addition to founding the Vitalant Research Institute, Dr. Busch is a member of the transfusion-transmitted diseases committee of the Association for the Advancement of Blood and Biotherapies, the research and development advisory committee of Canadian Blood Services, and several World Health Organization panels. He is also the president-elect of the International Society of Blood Transfusion.
His commitment to research and serving others has saved and improved an immeasurable number of lives throughout his career.
"I'm truly humbled by this prestigious award and recognition," Dr. Busch said. "My motivation to serve and advance the medical and scientific community has carried me forward through my career and will continue doing so in the years ahead. I appreciate the support of my colleagues and peers, who have all played crucial roles in my success."
Vitalant to the Rescue
As the United States faced the challenges of the COVID-19 pandemic, convalescent plasma – or that collected from COVID-19 survivors – played a vital role in patient recovery. The COVID Rescue Team campaign educated the public and raised awareness of this critical need.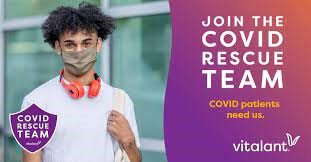 Developed with agency partners ForwardPMX, The Honor Roll and T3 (now Material Company) to rapidly increase donations and help save lives, the COVID Rescue Team campaign used a multi-channel approach to reach potential donors via media appearances, student-led virtual blood drives and digital advertising.
This success has now been recognized with the Outstanding Public Relations Campaign award. The campaign, which was also recognized with a PRO Award from Chief Marketer last fall, helped Vitalant make a monumental impact for patients relying on convalescent plasma in the face of the COVID-19 pandemic. Collaboration with the federal government, ABC and Blood Centers of America (BCA) helped demonstrate the power of a community-focused national approach.
"The results of our COVID Rescue Team outreach alone highlighted the success of this campaign, but the recognition from America's Blood Centers drives home the impact our team made with this effort," said Cliff Numark, chief of marketing and senior vice president of donor services.
"Our team and agency partners created a message that not only resonated with the public but also drove action during one of our nation's greatest times of need. This campaign wouldn't have been successful, however, without the support of all the convalescent plasma donors who stepped up to help others and save lives. They're the real heroes and deserve recognition, as well."
Congratulations to Dr. Busch and everyone involved with the COVID Rescue Team campaign on this much-deserved recognition.
By Adam Testa, strategic communications manager, Vitalant