Vitalant Grand Junction Blood Donation Center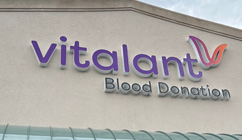 Address
561 25 Road, Suite 102/B
Grand Junction, CO 81505
(877) 258-4825
Schedule now
Hours
8:30 am-3:30 pm

11:00 am-6:30 pm

8:30 am-3:30 pm

11:00 am-6:30 pm

8:30 am-3:30 pm

Closed

Closed
Now Open! Vitalant has partnered with St. Mary's Medical Center to open a NEW donation center in Grand Junction.
Vitalant has a long history in Colorado, dating back to 1943 when Belle Bonfils Memorial Blood Bank was founded in Denver. In 1971 it became Bonfils Blood Center. Bonfils Blood Center joined Blood Systems in 2017 and shortly thereafter the various blood centers that had become part of Blood Systems over the years were renamed Vitalant.
Vitalant's rich history and legacy makes it one of the nation's oldest and largest nonprofit transfusion medicine organizations. Today, we comprise a network of about 120 community blood centers in nearly 30 states, and provide lifesaving blood and comprehensive transfusion medicine services for about 900 hospitals and their patients across the U.S.
We're excited to be part of your community.