Vitalant Grass Valley Blood Donation Center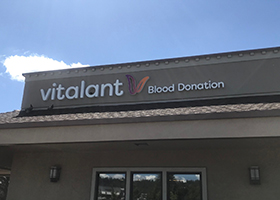 Address
759 Sutton Way
Grass Valley, CA 95945
(877) 258-4825
Schedule now
Hours
Closed

10:15 am-5:15 pm

10:15 am-5:15 pm

7:00 am-2:00 pm

7:00 am-2:00 pm

6:45 am-2:00 pm

Closed
Blood donors in Grass Valley, Nevada City, Bitney Corner, Town Talk and the Cedar Ridge and Cedar Crest areas of northern California are served by the Vitalant Grass Valley blood donation center at 759 Sutton Way, Grass Valley, CA 95945.
The blood donation center is located in a former bank building next to Wells Fargo and across the street from Rite Aid. Ample free parking, including accessible parking spots, can be found in the shopping center lot.
Donating blood in Grass Valley, CA, is safe and easy to do, and it can help save lives. Whether you give a whole blood, platelet, plasma or Power Red donation, your donation can help someone in need—and make a huge difference in your community. Our Vitalant Grass Valley blood donation center needs blood donors of all blood types, so if you've never donated before or haven't in a while, we hope to see you soon.
APPOINTMENTS ARE STRONGLY ENCOURAGED.

HOURS MAY VARY. Please call 877.258.4825 to confirm today's center hours and your appointment if you have not received a confirmation email, text or phone call. You can also book online at donors.vitalant.org where available time slots for specific donation types are designated.

​We welcome walk-ins but those with appointments are given priority.