Vitalant Paramus Blood Donation Center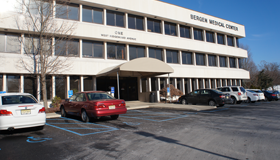 Address
One West Ridgewood Avenue, Suite 208
Paramus, NJ 07652
(877) 258-4825
Schedule now
Hours
8:00 am-4:00 pm

12:00 pm-8:00 pm

12:00 pm-8:00 pm

Closed

8:00 am-4:00 pm

8:00 am-2:00 pm

8:00 am-2:00 pm
The Vitalant Paramus blood donation center is located at One West Ridgewood Avenue, Suite 208 in Paramus, NJ, 07652. This Vitalant donation center is located in the Paramus region and serves blood donors in the city of Paramus, and surrounding towns including Ridgewood, Oradell, Township of Washington and more.
Donating blood in Paramus, NJ, is safe and easy to do, and it can help save lives. Whether you give a whole blood donation, platelets, plasma or a Power Red donation, your donation can help someone in need—and make a huge difference in your community. Our Vitalant Paramus blood donation center needs blood donors of all blood types, so if you've never donated before or haven't in a while, we hope to see you soon.
Blood donation types collected at this site are whole blood, Power Red (double red cell), plasma and platelets. The location is open every day except for Thursdays. The parking area is conveniently sized, offering plenty of nearby spaces, and accessible parking is available.
Donor room hours may be subject to change, please call ahead to make an appointment or confirm donor room hours. Last appointments taken 15 minutes before closing time.