Vitalant Ventura Blood Donation Center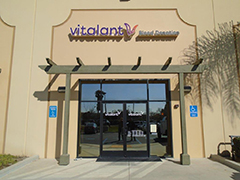 Hours
10:00 am-5:00 pm

10:00 am-5:00 pm

12:00 pm-7:00 pm

11:00 am-6:00 pm

8:00 am-3:00 pm

6:30 am-12:30 pm

6:30 am-12:30 pm
Residents of Ventura County and surrounding counties are served by the Vitalant Ventura blood donation center at 2223 Eastman Avenue, Suite A, Ventura, CA 93003.
Look for the Vitalant flags waving you into this location, where there is free parking including accessible parking spots, and bilingual staff to help Spanish-speaking donors. Types of donations collected are platelets, whole blood, plasma, Power Red and therapeutic donations.
The last appointment or walk-in is taken 15 minutes before donor center closes. The Vitalant Ventura donation center is open the first and third Saturday of the month for all donation types. Holiday hours may vary.